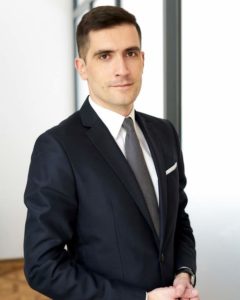 Legal advisor, tax advisor, director of indirect taxes
In his thirteen-year career, he advised, among others, entities from the construction, energy, fuel, automotive, alcohol and financial services sectors. It provides consultancy services in the scope of limiting tax burdens related to both activities of strategic importance and current operations of enterprises. He is a representative in tax proceedings before tax authorities and administrative courts, and performs tax audits.
Education:
A graduate of law at the Faculty of Law and Administration of the Catholic University of Lublin
Non-business passions:
Football, rock music, literature (mainly Czech)
Specializations:
Tax on goods and services;
excise tax;
tax on civil law transactions;
tax aspects of business restructuring.
Customer service in language: