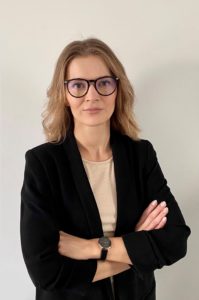 Legal Counsel
She gained her professional experience in Polish and Italian law firms specializing in the sector of commercial entities. She worked, among others, on construction contracts carried out under the public procurement and FIDIC Contractual Conditions. She has extensive experience in conducting court proceedings and drawing up legal opinions.
Education:
Legal advisor, a graduate of the Faculty of Law and Administration at the University of Warmia and Mazury in Olsztyn, she also studied law at the Università degli studi di Trieste.
Non-business passions:
Travel, Italian and Thai cuisine, automotive.
Specializations:
Court proceedings;

corporate law;

public procurement law.
Customer service in language: