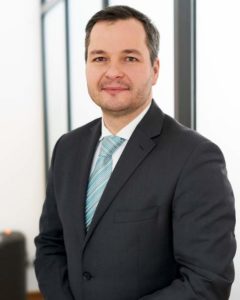 Tax advisor, head of the direct tax department
He gained his over 13 years of professional experience in renowned tax consultancy firms (Institute of Tax Studies Modzelewski & Partners, Kancelaria Ożóg Tomczykowski), providing tax advisory services to entities from various fields of the economy, including the energy, transport, railway and construction sectors. He advises corporate clients, in particular in the field of direct taxation and transfer pricing. He also acts as a representative in tax matters both in proceedings before tax authorities, as well as before administrative courts. He participated in many tax reviews and due diligence projects. He conducts trainings in the field of income taxes and tax regulations. He has participated in legislative works on numerous occasions as a co-author of draft legal acts, he also issued opinions in this regard.
Education:
higher law
Non-business passions:

In his spare time Paweł discovers music by learning to play the piano. He is passionate about cooking; he loves to spend time cooking for his loved ones and discovering new flavours.
Specializations:
Company restructuring;
intergenerational enterprise succession;
tax proceedings, including the scope of undisclosed sources;
transfer prices.
Customer service in language: